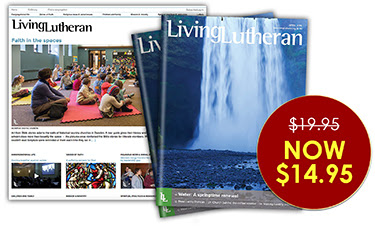 Living Lutheran, the new flagship publication of the ELCA, has officially launched. Beginning with its April issue, The Lutheran magazine will be called Living Lutheran and will have an accompanying website, LivingLutheran.org. Our new name signifies this church's living, daring confidence in God's grace.

Your new Living Lutheran has a bold, modern look and will continue to offer stories, reflections and news that illuminate Christ's presence in the world.

Visit LivingLutheran today for:
Stories and commentary from the 3.7 million members, 9,300 congregations and partner organizations that make up the ELCA
An exploration of issues important to Lutherans
Resources to help deepen your faith through worship, stewardship, arts, music and more
Best practices and ideas for mission and ministry
Opportunities to witness our church at work in this country and around the world
Monthly reflections from me and others
Ideas and resources for parents, grandparents and families who are passing faith on to children and youth
Coverage of ELCA religious news and events
A free e-digest highlighting the latest and most popular stories, an introductory offer on new print subscriptions and more!
Join the conversation! Visit the new Living Lutheran today.